GET READY AS WE TAKE A SIX WEEK JOURNEY FROM ANXIETY, FRUSTRATION AND FEELING A TAD UNDERWHELMED TO UNLEASHING YOUR COURAGE, GAINING CLARITY OF PURPOSE AND OOZING CONFIDENCE TO GET WHATEVER THE HELL YOU WANT THROUGH MINDSET, MOVEMENT AND MAGIC.
It's a hard thing – trying so fucking hard to be the best you can be for everyone and everything, never feeling like you're quite succeeding, never getting the appreciation you're longing to feel at night when you fall into bed, crumpled up with exhaustion.
Waking up and dragging your feet to the bathroom, so desperate to love the face in the mirror.
But how the hell can you?
All you see are the lines of defeat creeping around your eyes like drunken crows feet on an empty beach.
When you pick up your shirt and you stare at the bulge of emotional eating to numb the pain of not feeling good enough. Or maybe yours are the bones sticking out from starving out the pain of feeling loss of control. When all you feel is the emptiness of thoughtless cruel words and actions from those you trusted ripping out pieces of your soul along a journey leaving you full of holes.
I've done both – fucking sucked!
Let's stop white-washing the truth and just admit that this journey called life can be a bitch at times Darling.
It can be cruel and it can be hard and why oh why did we ever choose this shit?
But for us it's even worse.
You and I.
Because unlike some who only came to observe and go through life without any grande purpose, normality feels good enough.
Fitting in even feels good.
But not us.
We came here to bring change.
To wake up those who have gone to sleep on themselves and who instead of thriving are screaming in so much pain that their voices are ripping through our minds even whilst we sleep.
For we are here to wake up the masses and to bring back joy!
We're here to release our soul tribes from their shackles so that they can explore this beautiful world with love and jubilation and opulence. Our children. Our beloveds. Our people!
Except in a cruel twist of fate the messengers, the creatives, the leaders, the rebels, the high achievers apparently agreed to the most arduous paths of all.
We agreed to go through the toughest of lessons to see who would give up and become one of the sleepers, and who would reconnect with their inner warrior and rise!
It's time for you to fucking RISE!
Because choosing NOT to step into your true power leads to an endless nightmare dripping pain and suffering into your slowly beating heart.
The pain of not spreading your wings so wide that it expands as far as the eye can see.
The pain of not living up to the potential that you swore you would honor when you were a young sprite.
The excruciating pain of the unworthy which nobody ever suspects because your smile is so beautifully crafted through years of practice.
I want you to know that the pain of disillusionment, disappointing relationships, self-loath, and frustration are easier to end than you can ever imagine.
I want you to know that I've been in your shoes and I've read the books, attended the seminars, crossed the mountain, sat at the feet of the gurus only to see the dirt under their toenails and smell the cigarettes on their breath.
I've spent more than I care to ever admit on courses and coaching and mentoring and learning because I refused to give up and sit down. I continue to do so because for me it's fucking worth it.
And it's been hard at times.
Oh so hard…
It was hard because I thought I had to go it alone, too proud to let others see my vulnerability. I experienced that standing up for yourself on your own results in a backlash from others that beat you to your knees with their words and their fists and their fury, sputtering blood and tears and snot.
It has you choking so hard with confusion, disappointment, and shame that you feel as though the breath is being strangled out of you.
But I did it.
I found my magic.
I found my happiness.
I found my purpose.
I found my warrior.
I walk the walk Sister, and I fight the fight.
And now so can you!
Looking back all the clues were there all along.
I know I know, I'm a slow learner at times. I took the long route. I learned the hard lessons. In some ways I still do.
That's because I'm not done yet. I'm not done learning to be in service to others. And so I will continue to embrace my journey because I fucking care!
I care about my purpose.
I care about my life.
But most of all I care about YOU!
You're the reason I wake up in the morning and start hustling whilst others are snoring. You're the reason I hunt down my fear even whilst my knees are trembling so much I can hardly stand.
You're the reason I take my next breath.
If only you could see how precious and important you are.
To me.
To the world.
I so appreciate you, Darling. I so appreciate your journey and all that you're going through.
I want you to know that you're not alone.
The good news is that I love bashing the long road so I can look back and spot the shorter path. So I can come back and walk beside you, so I can show you the potholes and the cleverly concealed rocks that form a delightful path for you to dance over.
Oh and dance we will Darling.
Dance we will.
Courage, Clarity, and Confidence is perfect for the high achiever who is sick and tired of not winning in a BIG way. The born leader, the spiritual rebel who knows they're here to make a difference yet they're holding themselves back from serving because they doubt their worth. The creatives who are sick and tired of being told that they're blocked. Those who don't want to focus solely on making money because they know that there's no true success without happiness and that when they raise their hands to their purpose work the money comes.
Happiness comes first.
Happiness IS success.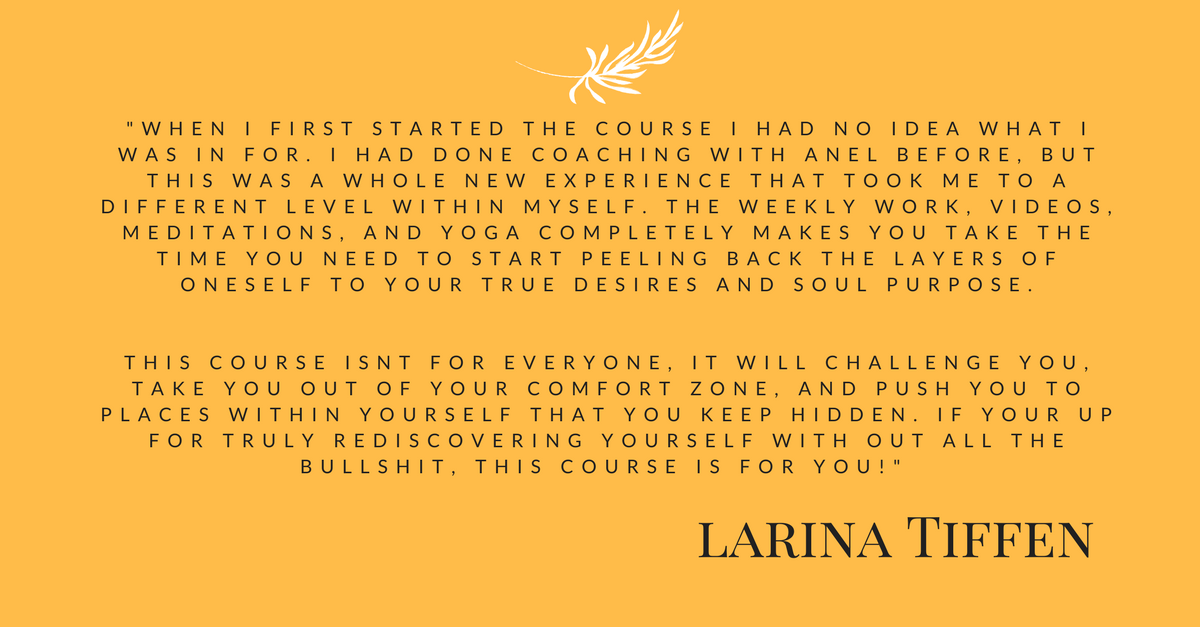 I see you look in the mirror and think "Well what the fuck makes me so special? Look at me – all fucked up and broken inside. Who do I think I am?"
Yet there's also a persistent voice inside of you that's begging you to take heed. To own your life purpose and to be brave enough to make a difference.
A voice that's telling you that you were born for greatness. A voice that tells you that avalanches of abundance is your birthright. A voice that's whispering relentlessly and getting harder to ignore.
Because you WERE born for greatness and impact and joy and love beyond your wildest imagination.
It's for the individual who defies tradition and the limitations we're taught from toddlerhood. It's for the person who is ready to draw a line in the sand and scream "ENOUGH AND NO MORE!" and then taking that first step towards the rest of their lives howling out their passion and their power. A life overflowing with fulfillment.
Courage, Clarity, and Confidence is based on a forgotten wisdom where everything you need for an epic life is within you. It is aligning and activating the power of body, mind, and soul thereby igniting your true nature of alchemy.
A six-week journey where I share with you some of the most incredible mindset tools, routines, and activities with which to remember your true desire re-igniting your passion for life, for success, for you.
We remove the muzzle which has kept you quiet and in a safe space you will find your voice, your message, your truth and speak it unapologetically forever more.
We deal with the shit that is your past. The shit that is your present. We clear and we shift, and we move forward chest out, chin up.
We empower you to forgive, release and move with ease finally. Everyone and everything that is keeping you small with voices from yesteryear. We burn up all which no longer serves you including any bullshit you're holding on around not forgiving yourself. I'm going to show you how beating yourself over the head is fucking fruitless and just another tool of oppression handed to us from pricks in another century.
We're going to romance YOU. All of you!
I'll let you in on a little secret here – nothing changes until you love yourself.
THAT'S true achievement.
THAT'S pure joy.
THAT'S my wish for you.
And on top of all of this, I guide you through a series of yoga postures every week to enhance the release of emotion – both the darker and the brighter emotions.
THIS is life at it's thriving best.
This is what nobody is teaching you.
Connecting your mind and your body with your soul purpose is the most powerful force in nature.
And God knows it's time for you to unleash your force.
Courage, Clarity, and Confidence is NOT for anyone who wants to live an average life.
It's not for those who are forever blaming everyone else and everything else instead of looking inside and doing the work that will bring lasting healing.
It's definitely not for you if you want to tick the boxes and do it the 'scientific' way.
This course will challenge you in ways that you've never been challenged before and if you're going to whimp out after a day, please don't waste your money or more importantly your time signing up.
There's a reason the course name starts with COURAGE. Because that's exactly what it takes to take the first step.
Look, Darling, the truth is we're all fucking terrified.
We're all living in fear All. The. Time.
The gift within fear is birthed through the courage it takes to move toward and beyond the point of fear to find the learning, the freedom, the sumptuous expansion of exuberance!
And then knowing that just as you clear the mists and see the light, up comes another fear.
It's part of the journey, the adventure, the growth and the grit.
When you own your courageous warrior, and you have clarity of purpose, you will have the confidence to get whatever the fuck you want!
And just to make it even cooler – because we're OVER-achievers and more powerful than we ever admit to others – we're going to add in a sprinkle of magic. A wee bit of candles, a short piece of string, bubble bubble Baby.
It's taken me decades to get to the point of creating Courage, Clarity, and Confidence because I had to grow a bigger pair than ever before to show you all of me.
I was told by my soul it's time now.
I was told it's time to unleash the leaders and rebels within my soul tribe for our time to rise is NOW.
Not next month.
Definitely not next year!
Which brought me to the price.
What the fuck to charge for a course that's going to change the world one life at a time.
Then, as I reached out and paid for my gorgeous new sweater I just knew in my heart of hearts that the price of the sweater is the price of the course.
Which on the one hand makes zero sense to me but on the other hand it makes perfect sense.
Because ultimately if you won't pay for a course that's going to change EVERYTHING in your life what I'm paying for a jersey to keep me warm, it's just not your time to do Courage, Clarity, and Confidence now. It's that simple.
So how much was the cardigan you ask?
This is crazy!
Because you're worth more than a cardigan.
Your happiness and power and impact is worth so much more.
But I was told to offer it so here you go Darling.
Are you ready to step into your power?