Is there anything more frustrating than waking up each and every morning feeling like same-shit-different day?
Frustrated with your mediocre results because you know that you were born for so much more? Looking at yourself in the mirror and wondering how the hell to get your oomph back?
In just four weeks I will shift your ass to go from pulling out your hair and feeling like a bloody under-achiever to finally showing up as the leader you were born to be, hitting your success button, winning the races and taking charge of your life.
Because existence and struggle is no longer an option.
It's time!
It's time to stop the tears, the discontent, and the look of defeat that has become your standard expression upon waking.
You know what I'm talking about.
I'm talking about you saying that this year was going to be different. That this year you're going to live life on your own terms and have fun!
Except now you're hiding that list of goals and instead each day you recite all the reasons as to why you're going to start doing it all next year.
Because life happened again and all those good intentions went down the drain like slimy old fish oil.
You're still spending your days picking up after everyone else.
Your energy levels still hit the pavement around lunch time.
Your finances are still intimidating the living daylights out of you and in an attempt to live in denial you feel like an ostrich with your head in the sand.
The kids are exhausting, your partner is exhausting, life is exhausting.
You're spinning your wheels and going nowhere fast.
Truth bomb – you're still stuck in the same god-awful routines and patterns of doing life which is exactly why you have the same old results again and again and again. What do you expect?
This is fucking CRAZY!
It's time that you understand once and for all that you CAN have it all.
You can have the discipline, the routines, the structures that has you training every day, eating clean, looking mean, rocking with energy.

You can be the master of your professional and financial goals – fuck the fear and intimidation.

You can show up as the most confident version of yourself and bring forth the creativity that is dying to come out of your soul!

You can be impacting millions if you just get your shit together NOW!
Get Your Shiz Together is for you if you're a born achiever who simply got distracted by the busyness of everyday life. If you're a hustler who have lost your mojo and you crave the addiction of adrenaline that had you running like a mofo in years gone by.
This is for the achiever, creative, rebel, leader who's putting foot down and saying fucking ENOUGH AND NO MORE MEDIOCRITY! The ass-kickerwho just needs a good ass kicking to bust through those glass ceilings and thrive.
Get Your Shiz Together is a four week bootcamp that gives you the structures and routines to get you achieving the goals you've been procrastinating on this year. It's a plug and play system that you will use again and again in years to come as you continue to go next level Baby! It installs the habits you need to live at your desired level and leaves zero space for screwing up.
I have you covered for peak physical performance from eating to training. I have you covered in epic business performance from finance management to project planning and daily execution.
Seriously, the only way you can't get results is if you don't do any of the work.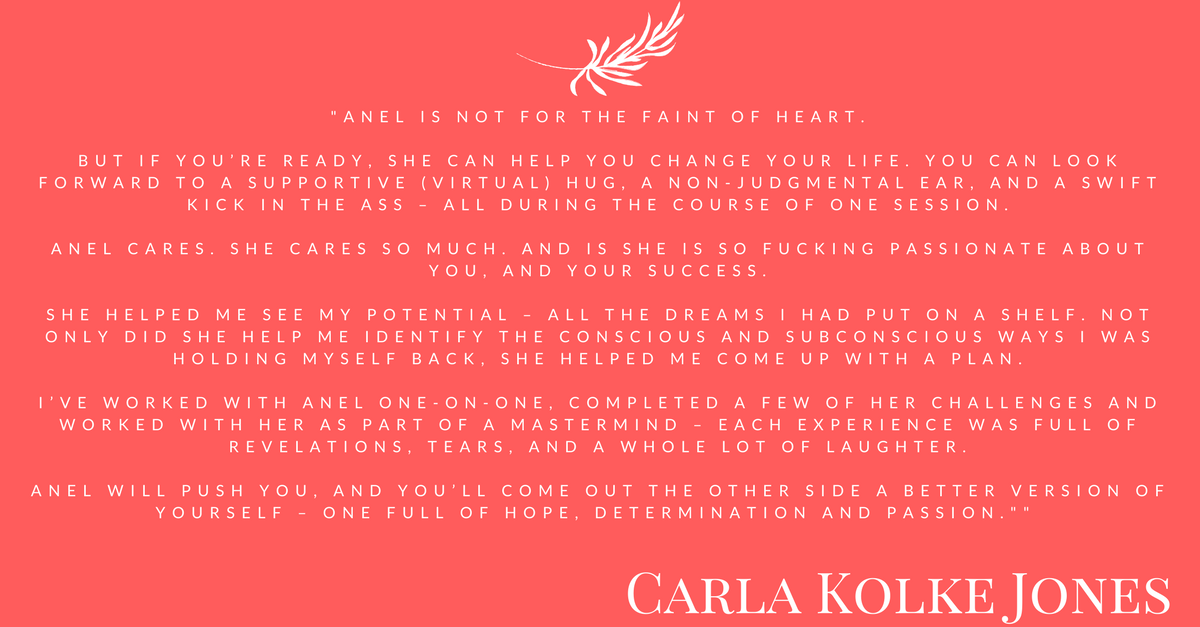 Here's how we play:
Week one: Seriously SMART ass goals
We nail your core values, committed business goal, committed fitness goal and look at the beliefs of your successful self so you can start seeing who you truly are at your core! You will never achieve anything unless you believe you can. Don't believe in yourself? Then borrow mine because you can bet your sweet ass I will find your gold.
Week two: Planning for Epic Success
You and I both know that failing to plan is planning to fail. We cover how you fuel your machine through clever meal planning and food preparation. I teach you my personal planning system which has me super focussed and productive every single day. Big projects? I have you covered. Solid routines? Yes we install those too. Get ready to join the 5 am club because the early bird catches the juiciest worm every time.
Week three: Never Get Lost Again
The reason why most people miss their targets is because they don't keep track of the journey and only realize they've gone off the path when they're in the next galaxy. With my Fitness and Eating Diary, Financial Sheet and Goal Tracking Sheet there's no chance in hell this is happening to you ever again.
Week four: Stop playing around with the Ducks and Fly with the Eagles
They say you become like the AVERAGE of the five people you spend your time with. Well in this program you get access to some high vibe mofos who, like you, are leaving ordinary behind. We look at your Dream Team and identify the support team in life that will have you supported like the rock star you are.
Get Your Shiz Together is NOT for you if you're looking for the magic pill that will have you lose 50 pounds whilst downing a tub of ice-cream. It's not for you want the results but you're not prepared to do the work.
I'm a born achiever and being an achiever I want to WORK for my success. I believe that all the magic fucking pills have made people soft and robbed them of a sense of true accomplishment.
That sucks!
Ultimately your body, your mind, your soul THRIVES on challenge, growth and achievement.
I'm not going to be the bitch who takes that away from you.
What I will do is to give you everything that's worked for me to build a business, raise my family AND become an IronMan whilst hosting spinning classes. All in a day.
Yes, this is possible for you.
Best of all?

You have lifetime access to this program on a membership site which means every time I add additional resources you get the updates.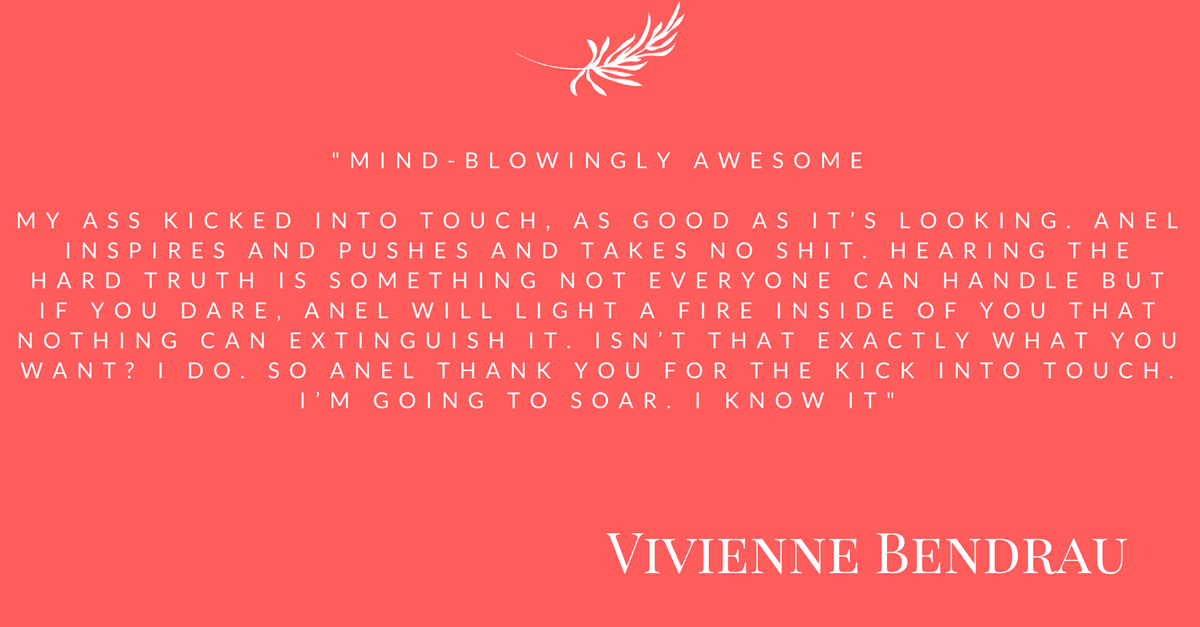 Look I get it. My kids were babies when I first started out in business. It was brutal. I used to get up at 2 am just to get some crucial work done before the screaming started.

I was overweight, underpaid and exhausted all the time.
All the time I wondered how the hell others did it. I felt angry, frustrated and fed up with the lack of transparency, feeling like overall life success was a closely guarded secret and nobody let me into the club.
But I'm also Anel fucking Bester which means I never give up.
The truth is it's my life purpose to learn some seriously hard lessons so others don't have to take the long way around the way I did.
I WISH someone had come along and given me this course because it would have saved me years of underperformance, depression and disappointment in myself for not having more in life - more joy, more freedom, more adventure, more fun.
I turned it around. I went from a crying blob to a competitive athlete successfully completing two IronMan events whilst also being a fitness instructor, a full-time coach and raising my gorgeous boys who are turning into real leaders of their time (Yes I'm a proud Momma).
What it took more than anything else was a shift in mind-set, a goal that set me on fire, and some seriously kick-ass structures and routines that freed me up beyond my wildest dreams.
This is what Get Your Shiz Together will do for you.
Because I'm an overachiever and I want to seriously shift your ass, I have more for you:
Are you in?

All the way?
Ready to stop screwing around and start being proud of your reflection?
Give me a hell yeah!